Y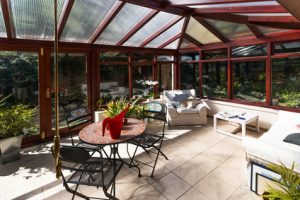 ou may be considering garden rooms and wondering what these can do or how they can benefit you? There are various types to choose from and it would be best to have the knowledge and information so that you could choose one that will meet your very specific needs. These are sometimes called contemporary or modern, but definitions change with time. Regardless of whether you like them or not, you have to admit that they are a welcome addition to any home or garden.
The canopy room is one that blends the beauty of nature with home comforts. Since it is fitted with a glass façade, you are able to look out onto the landscape in any type of weather without having to actually venture outdoors. This is the perfect option for someone who loves nature but lives in extreme weather conditions. You can observe without being affected. The versatility of this room allows you to customize it to whatever you want. It can have any number of uses and is especially good for entertaining or family.
The canopy will ensure a certain degree of privacy without blocking out that extra light. It could also become a short walk through your garden to your work place if you intend using it as a home office. This will allow you to get far away from the stress and noise of your home and create a space for your productivity. You can also relax on the decking of this room on those hot summer days. Canopies can have fitted down lights which means you can remain outside after dark. Winter or summer, regardless of what the weather does you can still be comfortable.
The concave garden rooms are a great choice for a home office because they create a sense of calm with the natural lighting, minimises distractions so that you have the perfect atmosphere to work in. It offers you all the features of a canopy type room but has added privacy. It provides a tranquil space surrounded by decking where you can chill out peacefully.
Cube garden rooms are those you can customize according to your desires. Your decking area is optional if you are interested in a lounging space that is outdoors. This is a brilliant outdoor living room where you can choose to be creative in maximum natural light that is airy and inspirational.
Having a room of your own that looks out onto the great outdoors, a space where you can relax, work or play without being disturbed can be the best gift you could give yourself. Everyone needs a space and time where they can be alone. These rooms can also be a space that you share with someone special or only your loved ones. There are may designs to choose from and it is always a good idea to do a little research beforehand so that you never make the mistake of choosing style over quality. The product you choose must have no compromise on performance. You want the end result to be a reflection of your style and taste, while it also needs to last.