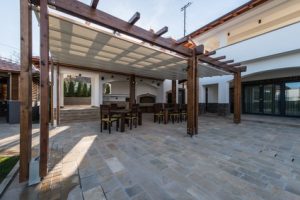 Adding a garden room or a veranda to your home is one way amongst many ways of revamping a house. A garden space is an extension of the main house with a solid roof and consists of three exterior walls. A veranda can be built against the exterior of the house or can be bought as free standing. There are various reasons as to why adding a veranda or garden space to your home is important.
A veranda or garden room adds extra space to your home. As a matter of fact, a garden space offers security since it comes with a lock which can be used to secure the house. Verandas and garden spaces add extra space since they are like an extension of the home. They can also act as storage spaces since they have the extra space and are also safe and secure since they have lockable locks. Apart from offering space, they offer extra light since the garden space is made of glass. It is like a big glass window outside the house thus the extra amount of light.
Garden room and verandas also add value to a home as a property. This is because of the extra space it gives thus giving out the illusion that the house has many spaces and space. This comes in handy in case the house is to be placed on the market since it rises to over ten percent. Garden spaces and verandas can be used all year despite the time of the year or the climate.
One can enjoy outdoors activities like eating breakfast or reading a book in a garden space or veranda no matter the climate. This is because they shelter people from cold, rain and high winds which would otherwise make sitting outside and doing certain activities impossible. This adds more value to the home since one can get the benefits of a garden throughout the year without experiencing the adverse effects of climates for example winter.
The sheltering effects of the garden space or veranda also bring with it privacy benefits. Privacy is brought about by the garden space or veranda's solid roof structure. One gets to enjoy fresh air while still maintaining their privacy. In addition to this, garden spaces and verandas are cheaper than a traditional conservatory. Garden spaces can be built without the use of professional help, unlike conservatories which need professionals to build which is time-consuming and a bit expensive. This also makes garden spaces and verandas cheap and hassle free which is a good aspect of home improvement. Garden spaces and verandas are a good home addition as they also add beauty to the house. The garden space has flowers and nice smells of different flowers and trees. The scenery is beautiful thus therapeutic and mind relaxing. The various colours of the flowers, small trees, and bushes can brighten moods and change a bad day to a good one instantly.